Emergency Supplies You Should Keep In Your Truck
Emergency Supplies You Should Keep in Your Truck at All Times
With winter coming, there are a number of emergency supplies you should always have in your vehicle. You never know what type of emergency you might run into, so don't tempt fate by not having what you need on hand. Here is a basic list of the emergency supplies your truck should be equipped with.
1. Road Flares
Every truck should be equipped with a set of road flares. Not only can these be used to mark your location in the event of an accident, they can be used to start fires in an emergency, especially in wet or snowy weather.
2. Water
No matter what time of year it happens to be, you should always have at least one gallon of potable water stashed away in your truck. If you are planning a longer than normal trip, you should tr...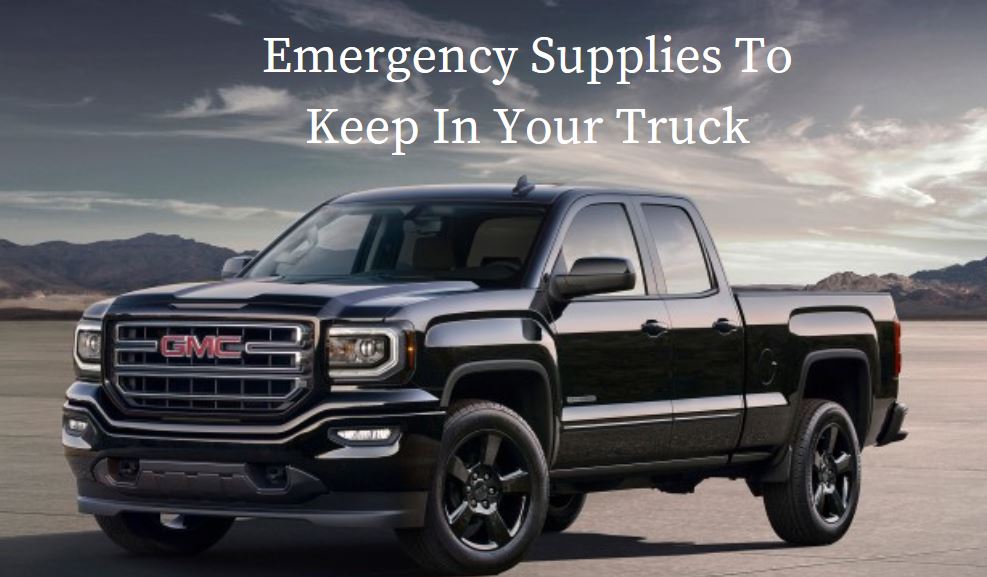 Hydroplaning Tips
Picture this: You are calmly driving down the road, when all of the sudden your car starts to lose control as if it was on ice skates. The only thing is it is just raining, no ice in sight. This was most likely caused by a phenomenon called "Hydroplaning". Hydroplaning occurs when a vehicle's tires encounter more water than they can scatter. Water pressure in the front of the wheel pushes water under the tire, and the tire is then separated from the road surface by a thin film of water and loses traction. The result is loss of steering, braking and power control. Hydroplaning is one of the leading causes of fatalities in bad weather. If you find yourself hydroplaning, there are things you can do to help yourself recover. Take a look below and make sure you're prepared.
1. Do not use your b...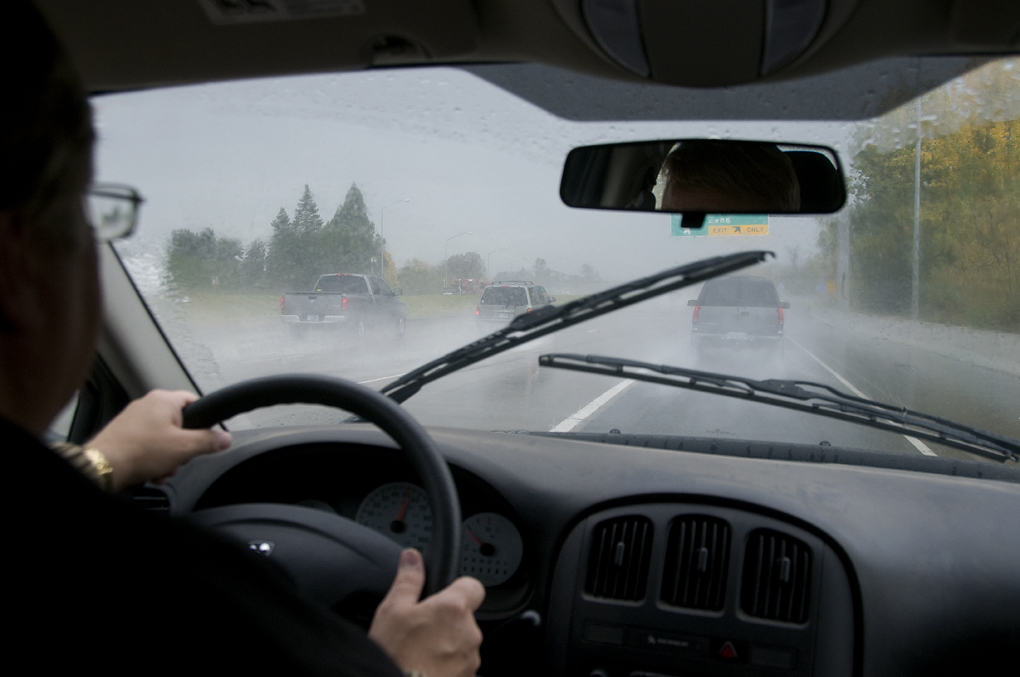 GMC Sierra- A Tailgate Favorite
Football season is well under way and with football comes a favorite pastime - Cooking, eating and drinking in a parking lot full of fellow revelers, aka, tailgating. Lions fans may have their favorite game day tradition and we're betting tailgating is in the mix.
Determining the food options may be the first thing that comes to mind when planning a tailgate, but there's another very important aspect to consider, the vehicle. Classic tailgating calls for a vehicle with room for tailgating and a fun crowd experience. The GMC Sierra has other features that are great for work and driving, this post is about why the Sierra is a primo choice for your pre-game fun.
A nice feature available on the Sierra is the Tri-Mode Power Steps that automatically retract when not in use, affording a clean and...
Summer BBQ Tips
Summer weather means cooking out and BBQs with friends and family. Read on for some great BBQ tips.
Preheat your grill 15 to 25 minutes before you start cooking to make sure it reaches the right temperature (and to kill any bacteria). Your grill should be 400-450°F for high, 350-400°F for medium-high, 300-350°F for medium and 250-300°F for low heat. A properly heated grill sears foods on contact, keeps the insides moist and helps prevent sticking. While searing doesn't "seal in" the juices (contrary to popular belief ), it does create improved flavors through caramelization.
Preheat the Grill
It's easier to remove debris when the grill is hot, so after preheating, use a long-handled wire grill brush on your grill rack to clean off charred debris from prior meals. Scrape again immediately af...
Keep Kids & Dogs Safe
Summer weather means hot temperatures and the inside of cars get even hotter so remember it is never OK to leave kids or pets in a car -- even with the windows down.
Kids are more susceptible and at higher risk for heat-related illness and injury than adults because their bodies make more heat relative to their size and their abilities to cool through sweating are not as developed as adults.
On a day that is just 72 degrees Fahrenheit, the temperature [inside a car] can increase by 30 to 40 degrees in an hour, and 70% of this increase occurs the first 30 minutes. If you suspect your child has heatstroke consult a doctor immediately and provide fluids. Give your child as much cold water as he will drink. Do this until he feels better. If you have a sports drink such as Gatorade, give it ins...
Washing Your Vehicle
It's summer and many car owners will take a Saturday to wash the family vehicle. Proper washing is one of the most overlooked and misunderstood areas of auto care, and sadly improper washing damages and dulls your vehicle's finish over time. Take a look at these tips from Parks Motor Sales to learn more.
Always Wash Your Car in the Shade
This will keep your car wash shampoo solution from drying on the car before it is rinsed off. I
Use a Car Wash Shampoo
Car wash shampoos have come a long way since their introduction to the automotive detailing market. There was a time when we all just grabbed dish soap and went to work but those days are long gone. Dish soap is designed to eat away grease and food and while it works great for dishes we need to keep it in the kitchen! High quality car wash s...
New Car Care Tips
You've taken the plunge and brought home your shiny new car. It's a thing of beauty which you'll be admiring for a while every time you see it. You'll likely be hearing advice from friends and neighbors who stop by to see your new ride.
You'll want to protect your investment and performing simple preventative maintenance on your vehicle will go a long way.
Here are a few tips from Parks Motor Sales in Columbia to take care of your new vehicle.
Brakes
New brake pads on new brake rotors don't really require a break-in procedure. The texture deliberately left on the surface of the iron discs will grind down the fresh surface of the pad material within a few miles. Even so, refrain from high-speed stops or dragging the brakes for a few hundred miles.
Oil
Change the oil regularly and check the oi...
Spring Driving Tips
Springtime brings rain and the aftereffects of winter weather - potholes and uneven pavement. Keep these driving tips in mind before you travel:
Spring showers bring May flowers - and wet driving conditions: Slow down on slick roads, and increase your following distance even when mist begins to fall. Just a small amount of water can mix with oil and grease on the road to create slippery conditions.
Share the road: Warm weather brings out motorcyclists, bicyclists and pedestrians.
Understand the impact of medications on driving: For many people, spring means seasonal allergies. Over-the-counter allergy drugs can have side effects or interact with other medications to diminish your driving ability.
If possible, go around potholes:
Deep potholes can throw your car out of alignment or worse, fo...
Car Tax Cuts
Have you ever wondered what types of tax breaks you are eligible for? Want to learn more? Read on.

On the off chance that you utilize your auto only in your business, you can deduct auto costs, as indicated by the Turbo Tax site. In the event that you utilize your auto for both business and individual purposes, you should separate your costs based on mileage. Auto deductions are for a car, van, and pick-up or board truck utilized for business as indicated by the IRS web site. It is important to be aware that the commute between one's home to work is a personal expense and not deductible.

However, if you drive from your usual work spot to another work related site whether it be a meeting in a different office, the store to buy office supplies or the airport, those are tax deductible miles. ...